Grant: 异构云平台中新型I/O虚拟化方法及运行支撑技术研究
本世纪以来,由于硅制造技术的进步正在接近理论极限,摩尔定律已经基本完成了它的发展进程。同时软件定义网络、网络功能虚拟化、机器学习、人工智能、无人驾驶、工业仿真等领域的崛起,对计算能力需求不断增加,这种趋势更加凸显。总体来说,传统CPU的算力不足问题,已经成为制约云计算平台技术发展的一个重要瓶颈。目前,异构加速器通常以I/O设备的形式通过各种高性能I/O接口与CPU协同工作,并参与到异构计算中。从根本上说,云用户关心的不是得到GPU、FPGA或ASIC硬件设备,而且获得其CPU无法达到的高吞吐和低延迟的"算力"资源。这需要将加速器的计算资源进行规约与抽象,满足云计算对资源透明性、可复用性、弹性管理和安全性的要求。本项目研究异构云平台中新型I/O虚拟化方法,将异构计算芯片的多样化和云计算的透明、弹性资源管理相结合,将各种异构加速器统一抽象为算力资源,屏蔽底层硬件I/O资源的动态性、分布性和异构性;在保持对应用程序的透明性的前提下,提供高性能、易扩展、低延迟、高利用率、透明性的云计算资源,已经成为未来云计算平台所要解决的核心问题挑战。
Current Projects
High-Performance QAT-Accelerated Systems/Applications (cooperation with Intel QAT team) – project page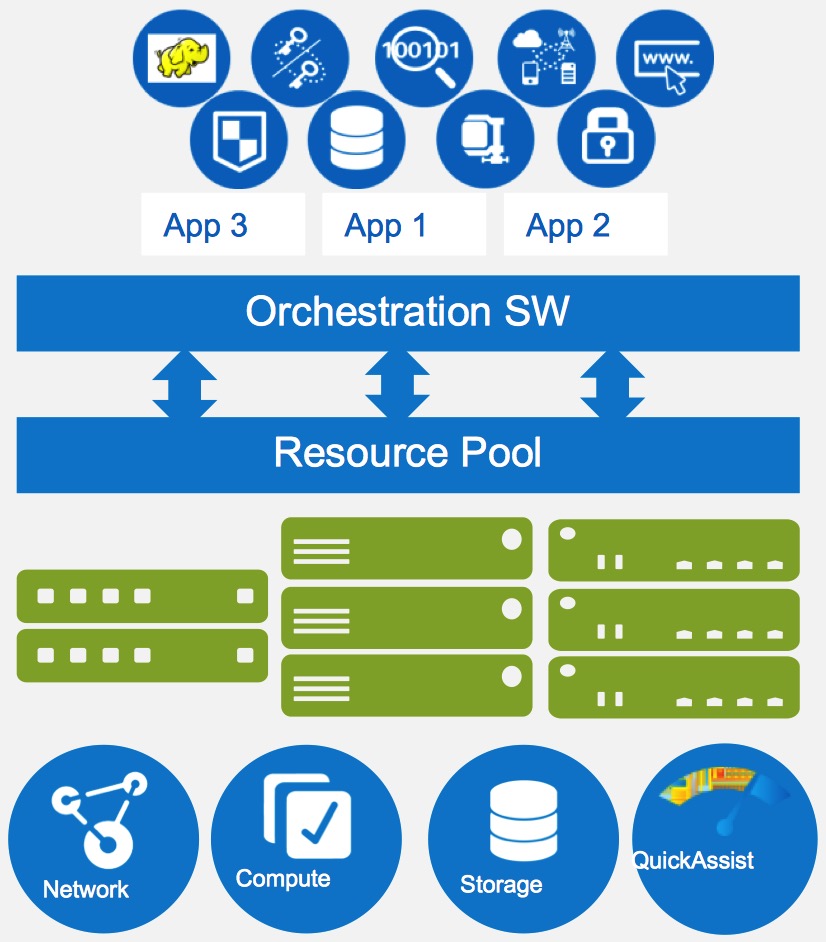 Nowadays, cloud datacenters demand continuous performance enhancement to fulfill the requirements of cloud services that are becoming globalized and scaling rapidly. Hardware accelerators, including GPU, FPGA and ASIC, are a promising solution to optimize the Total Cost of Ownership (TCO) of cloud datacenters. As a modern ASIC for both security (cryptography) and compression, the Intel QAT accelerator has advantages on energy-efficiency and cost-performance compared to those general-purpose ones. System/Application acceleration performance depends on not only the accelerator iteself, but also the offload I/O. The straightforward offloading of crypto or compression operations into QAT may not achieve the anticipated performance enhancement. Additionally, the emerging of crypto accelerator provides the potential to achieve both security and performance as sensitive crypto keys can be securely stored inside the accelerator during run time.
---
Bare-metal Cloud (cooperation with Intel DPDK team) – project page
---
Vector Packet Processing (cooperation with Intel VPP team)
Recently, with the rapid increase of network traffic, the poor performance of data packets processing with Linux kernel has become the bottleneck. However, the rapid development of the Internet needs high performance of network processing. In this situation, user-space network stack has caught more and more attention. VPP(Vector Packet Processing) is a user-space, high performance and packet processing stack that can run on commodity CPUs. In cooperation with Intel, we design and develop VSAP(VPP Stack Acceleration Project) based on vpp host stack. It aims to establish an industry user space application ecosystem. The project adapts existing open source projects, e.g., Nginx and Envoy now. In the future, It will benefit more network applications and leads to great performance improvement. The following is the link of VSAP in fd.io:
VSAP Project Page
.
---
---
Previous Projects